GOBBLE UP THE SAVINGS AT WHISTLER TURKEY SALE 2023
Get Discounted Winter Gears This Fall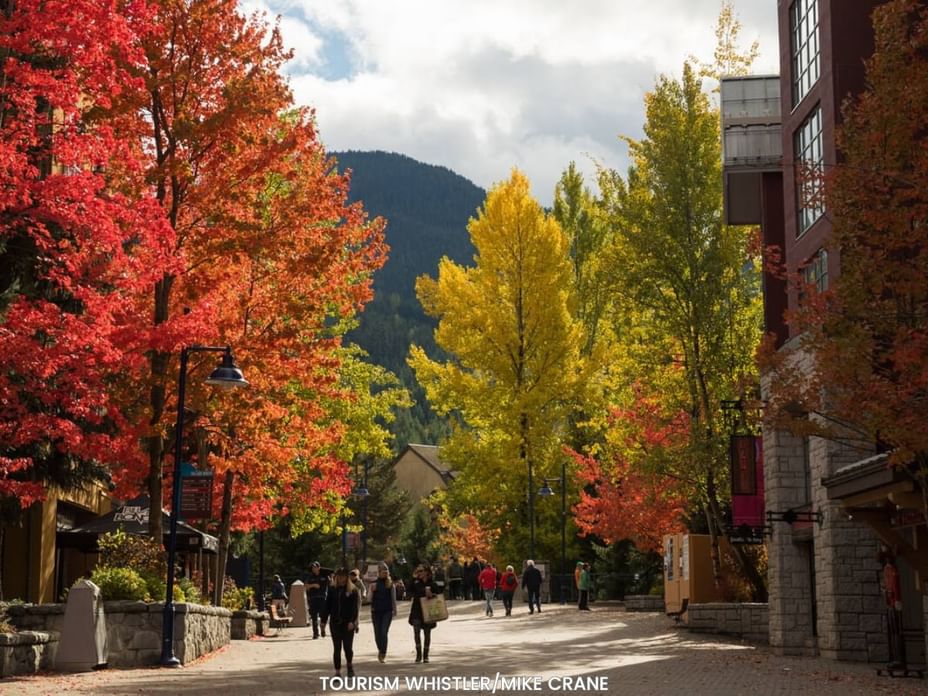 The legendary Whistler Turkey Sale is back this Thanksgiving from October 06 to 15! It's time to strap on your best walking shoes and set off into the Village, this the best time of year to get great deals on winter gears. Whether you are looking for a pair of new skis, boots, helmets, goggles, base layers, boards, or bindings, you will find steep discounts on them during the Turkey Sale.Each Whistler Blackcomb store (and many of the other local shops too!) will host a sale at their individual locations, you will find the best deal on items displayed outside the shops on the sidewalk. Get ready for the upcoming season and give your snow-gear closet a refresh for less. In this blog, we'll delve into what makes the Whistler Turkey Sale 2023 a must-visit event for anyone looking to gear up for the winter season.
Got sore feet from walking around the village all day? Don't worry, we've got you covered! Soak in our outdoor hot tubs and stay in one of our spacious suites after your shopping spree. Check out our lastest promotions HERE.
What To Expect?
1. Discounted Gear: The sale is primarily known for its incredible discounts on skiing and snowboarding gear. From skis and snowboards to boots, bindings, and outerwear, you'll find it all at a fraction of the regular cost.
2. Local Retailers: Local ski shops and retailers from Whistler bring out their best inventory and offer exclusive deals that you won't find elsewhere.
3. Expert Advice: Not sure which gear is right for you? Fear not! Knowledgeable staff from these shops are on hand to offer advice and help you choose the perfect equipment.
4. Exclusives: Some of the latest gear and limited-edition items make their debut at the Whistler Turkey Sale, making it a premier destination for gear enthusiasts.
5. Community Vibe: The event has a vibrant, festive atmosphere. It's a great opportunity to mingle with fellow snow sports enthusiasts and get into the winter spirit.
Where To Go?
Shopping for specific items could be a daunting task when every other shops sells winter gears in Whistler. These are our suggestions on where to look for specific items to save you time and energy.
| | | |
| --- | --- | --- |
| Types of Winter Gear | Store Name | Store Location |
| Ski and Board Demos | Essentially Blackcomb | 4280 Mountain Square, Unit #101 |
| Snowboard, Snowboard Boots and Bindings | Showcase | 4340 Sundial Crescent |
| Ski, Ski Boots and Bindings | Whistler Blackcomb Outlet Store | 4204 Village Square, Unit #203 |
| Kids Gear and Apparel | Can-Ski Westin | 4090 Whistler Way, Unit #116 |
| Luxury Apparel | Can-Ski Blackcomb | 4573 Chateau Blvd |
Tips for a Successful Visit
To make the most of your visit to the Whistler Turkey Sale, consider the following tips:
1. Arrive Early: The early bird gets the worm, and the best deals are usually snapped up quickly.
2. Know Your Size and Needs: Come prepared with your measurements and a clear idea of what you're looking for.
3. Stay Informed: Check the event's official website for updates on dates, participating retailers, and any special offers.
4. Plan Accommodations: If you're traveling from outside Whistler, book your accommodations well in advance, as this is a popular weekend. Check our availability HERE.
Whether you're an experienced skier or snowboarder or a beginner gearing up for your first winter adventure, this event offers unbeatable deals, expert advice, and a taste of the vibrant Whistler community. Don't miss your chance to gobble up the savings and get ready to hit the slopes in style!