UPCOMING EVENTS: SEPTEMBER EDITION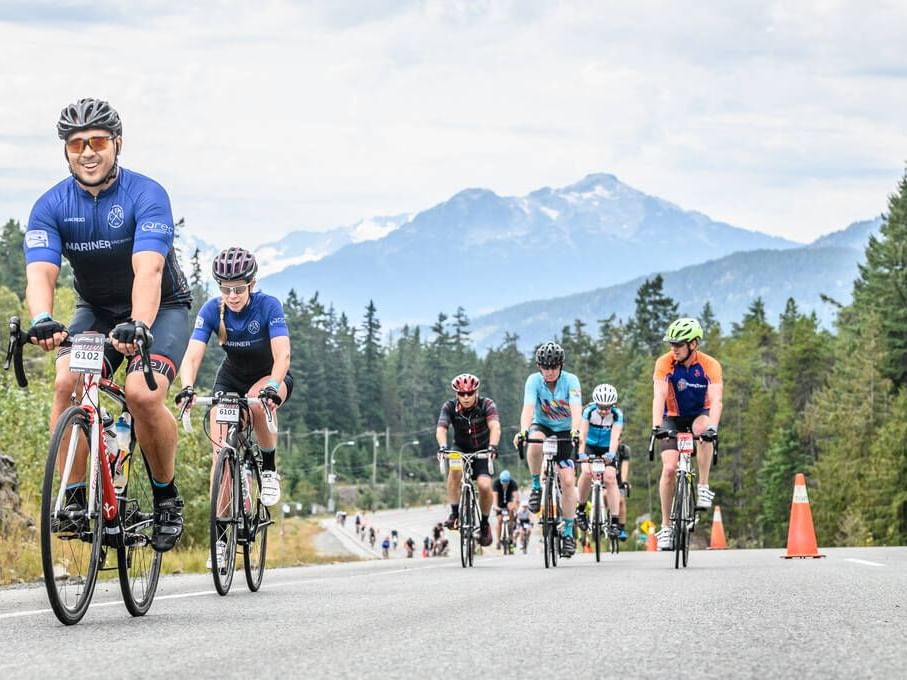 Image via Tourism Whistler/Scott Bremmer
Though the last day of summer are fast approaching, Whistler is not letting up on the fun and excitement. The slate card for September is full of events, races, festivals, and more. Starting with the Labour Day Long Weekend, this month promises to be a busy one. So, keep scrolling to discover all there is to do this September!
THE BIG EVENTS
RBC Gran Fondo

When: September 10
Where: Sea to Sky Highway

Come out and support the athletes of the largest road bicycle race in Whistler! This 122km race starts in Vancouver and travels up an empty Sea to Sky Highway (the only time you'll see zero traffic on Highway 99) to the finish line in Whistler Village. Cheer on the racers and join in on the celebrations in the Village afterwards. All around a great time, the Gran Fondo is not one to miss!

Whistler Village Beer Festival

When: September 13-18
Where: Various Locations

Visitors and locals alike rejoice! The fan favourite Whistler Village Beer festival is back. With six nights of just about everything beer related, take part in cask nights, enjoy live music, and visit the two-day "Main Event" at the Olympic Plaza. Get ready to try craft beers and ciders from over 60 breweries across BC, with some national and international brews thrown into the mix.


The Terry Fox Run – Fundraiser for Canadian Cancer Society

When: September 18
Where: Race starts at Four Seasons

September 18 marks the Canada-wide Terry Fox Run and the race's efforts to fundraise for the Canadian Cancer Society. Whistler's own Terry Fox Run welcomes runners and walkers, bikers and rollerblades, and even leashed dogs. Though the event registration date has yet to be announced, the race is scheduled for mid-September. Don't forget to pack your running shoes this September.
ART & CULTURE EVENTS
Paddling Through the Nations Canoe Tour

When: Every Wednesday-Sunday, 11:00AM + 3:00PM
Where: Squamish Lil'wat Cultural Centre

Join Master Carver, Chief Ray Natraoro (Ses Siyam) and SLCC Ambassadors and Apprentices Brandon Hall (Squamish Nation) and Qawam Redmond Andrews (Lil'wat Nation) as they continue the carving of the Community Reconciliation Canoe as a part of the SLCC Summer Carving Series. Guests are welcomed with a drum song, followed by storytelling of historic canoes, and then an interactive carving session.
Exhibition Teaser – Out of Control: The Concrete Art of Skateboarding

When: All September (during museum operational hours)
Where: Audain Art Museum

Nothing screams Whistler like fine art colliding with skateboarding. National and international artists have come together to explore the depth and diversity in the sport of skateboarding through film, photography, and architectural models. The Out of Control teaser takes place in the museum's Upper Gallery.

Alta + Audain Fine Dining Art Experience

When: Friday, September 2
Where: Audain Art Museum

The last night of the Alta + Aidain Fine Dining Art Experience is quickly approaching. This unique taste of Whistler talent in both art and cuisine will leave you with a refine palette in more than one sense of the word. Don't miss the last opportunity to take in a beautiful night of fantastic food and awe-inspiring art features.
ON-GOING EVENTS
Whistler Farmer's Market

When: Sundays, 11:00AM to 4:00PM
Where: Upper Village Stroll

The Whistler Farm Market is still ongoing. Chock full of farm fresh foods, artisan goods, tasty treats, and live music, it's a great way to spend your Sunday.
Mountain Top Summer Feast

When: Fridays, Saturdays, Sundays at 5:30PM
Where: Roundhouse, Whistler Mountain

There's no better place to have dinner than the top of Whistler Mountain, accompanied by panoramic views and live music. Enjoy a buffet of incredible mains, salads, and deserts at the top in the most Whistler-esque fashion imaginable.

WORCO Thursday Toonie Ride

When: Thursdays, 6:30PM
Where: Start Point Varies Weekly

Hosted by the Whistler Off Road Cycling Association, join the mountain biking community of riders from near and far for an evening ride each week. Ride hard or take it easy before moving onto an evening après to chat about the trails. The Toonie Rides are a perfect way to catch up with your old friends, or to make new ones! Rides cost $2 for WORCA members, or $5 for non-members.