CRANKWORX 101
A Thrilling Guide to the 2023 Whistler Crankworx Festival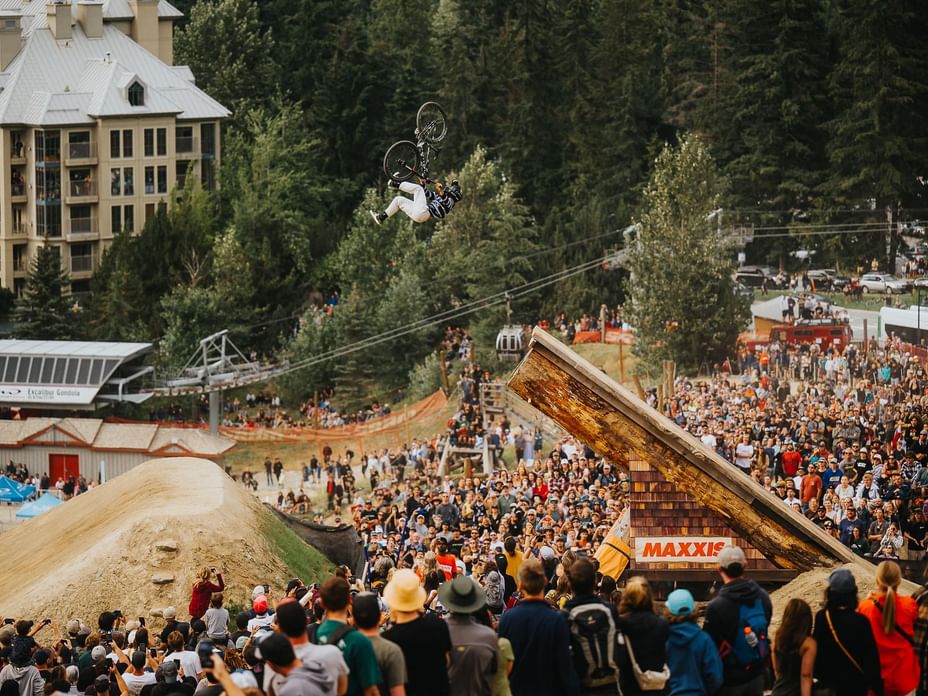 Photo Credit: Crankworx World Tour
Get ready to embark on an unforgettable adventure at the 2023 Whistler Crankworx Festival. Crankworx is the ultimate celebration of all things mountain biking. Whether you're a seasoned rider or an enthusiastic spectator, Crankworx Whistler offers an unforgettable experience, with heart-pounding races and competitions, vibrant expo, family-friendly events and more. Come and join the festivities from July 21st - 30th!
Competitions and Events
Crankworx is renowned for its adrenaline-fueled competitions, showcasing the incredible skills and talents of riders from around the globe. From downhill racing and slopestyle to speed and style contests, spectators can expect to witness gravity-defying tricks and awe-inspiring feats of athleticism. Here are some of the highly anticipated events at Crankworx.
1. Red Bull Joyride
Date: July 29th (4:30 PM to 7 PM)
Location: "The Boneyard," located at the base of Whistler Mountain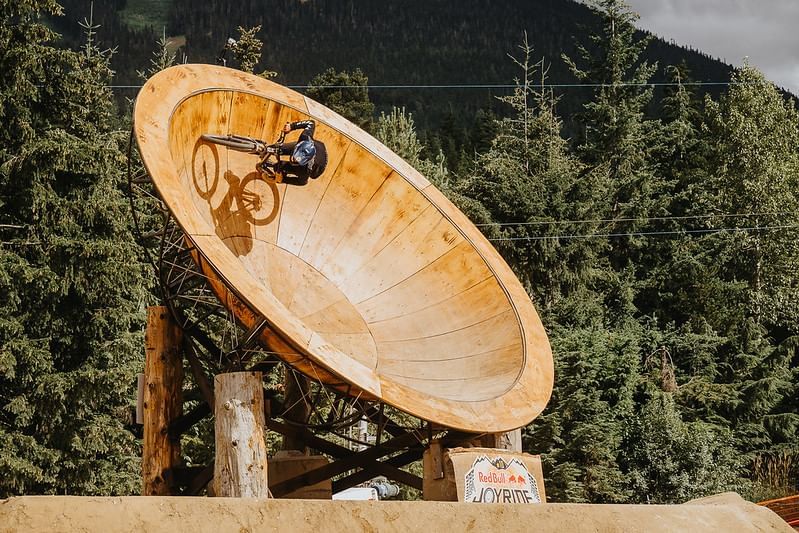 Photo Credit: Crankworx World Tour / Lucas Huppert
This competition is the highlight of Crankworx and it is the most spectated Crankworx event. Be prepared be for an adrenaline rush, the top 14 slopestylers will be showcasing their extreme tricks and gravity-defying stunts on a custom-built obstacle course with gigantic drops. This is the event where athlete Thomas Lemoine made the crowd go wild with his infamous 80-foot gap jumps last year. Don't miss out on this legendary competition!
2. Ultimate Pump Track Challenge
Date: July 26th (Finals 6 PM to 7:30 PM)
Location: "The Boneyard," located at the base of Whistler Mountain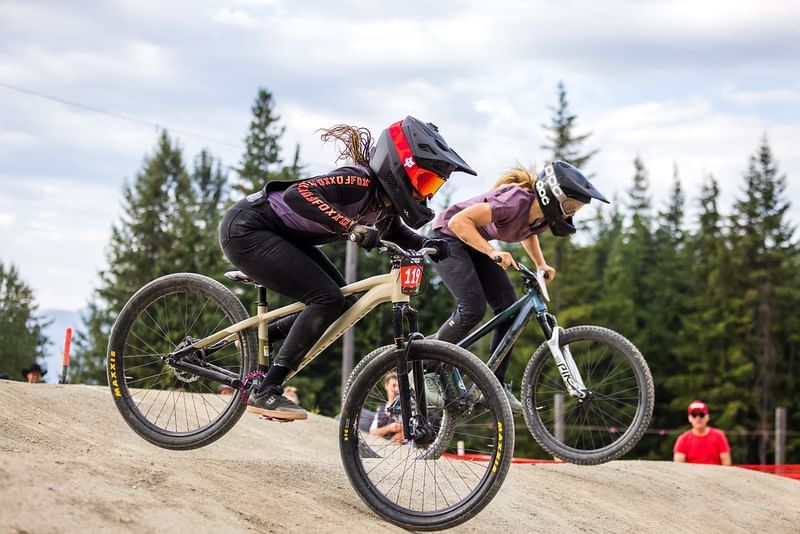 Photo Credit: Crankworx World Tour
What happens when you put two riders head-to-head on a pump track without chains or pedals? You get a fierce competition that showcases pure strength and skills. At this challenge every maneuver becomes crucial as riders skillfully navigate the track, leaning into the turns, pumping their bikes for speed, and fiercely battling for the top position.
3. Whip-Off World Championships
Date: July 27th (11:30 AM to 1 PM)
Location: Crabapple Hits, Whistler Bike Park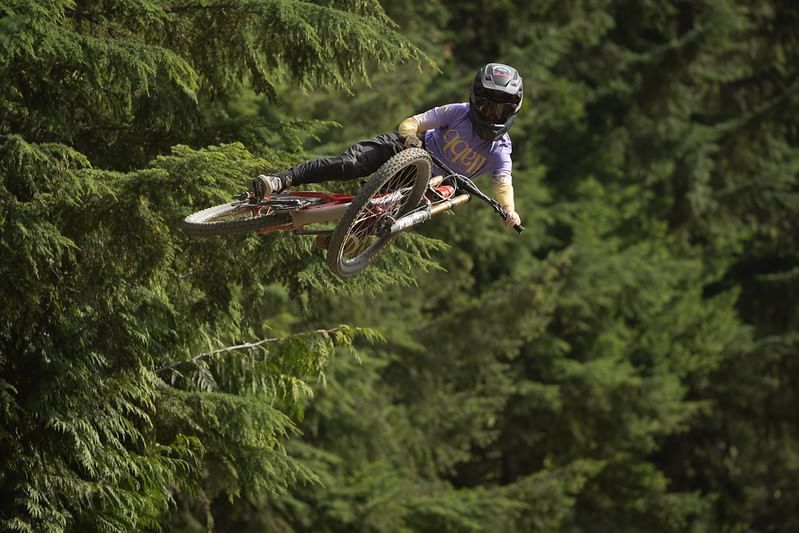 Photo Credit: Crankworx World Tour
If you prefer style more than speed, this is the event for you. Daredevil riders will hit Whistler Bike Park's most renowned jump, launch themselves up, and throw their bikes as sideways as possible before smoothly bringing it back down for a perfect landing. Bring your cameras with you as this event promises big style and lots of action.
Expo, Demo & Tech
Location: Whistler Village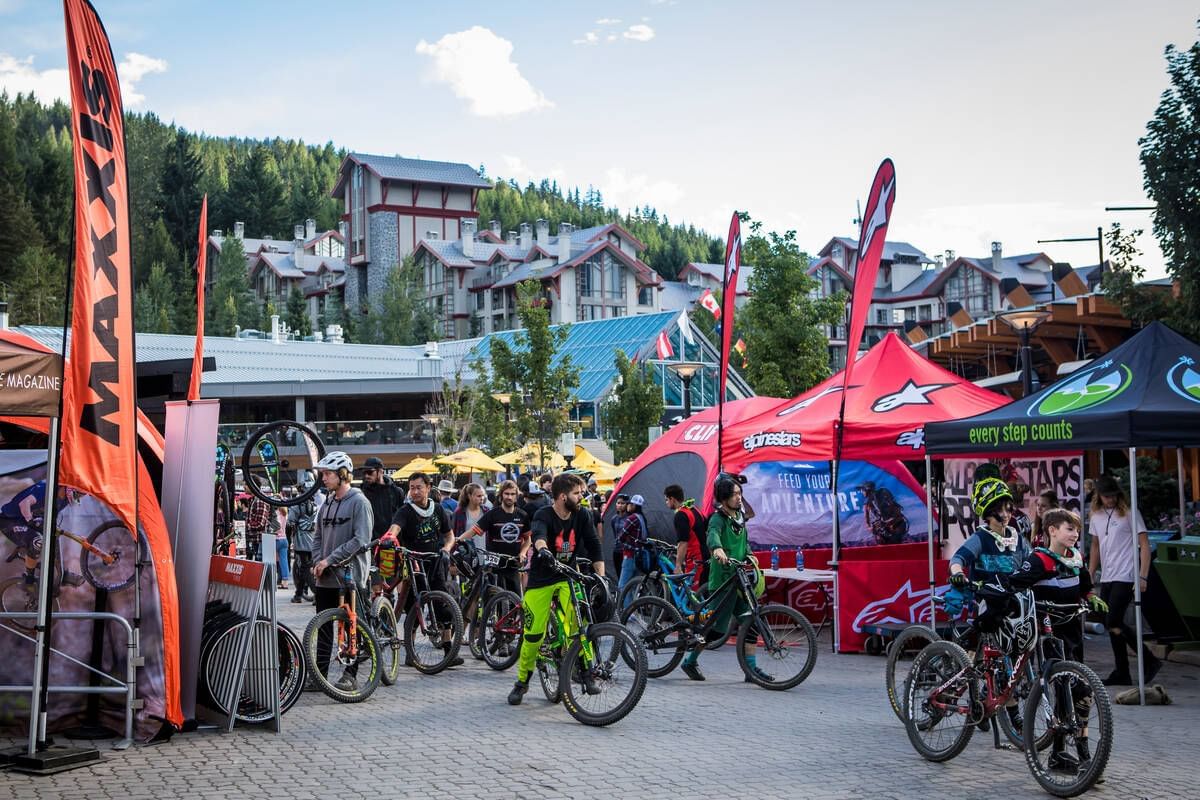 Photo Credit: Tourism Whistler/Justa Jeskova
Take a stroll at Whistler Village and check out the newest products from the biggest names in mountain biking. You can even try out the newest Trail, DH and Freeride bikes from respected brands in the industry for free during Crankworx. Stop by the Tech Zone where professional mountain bikers hang out at their team trailers between races.
Family-Friendly Events and Activities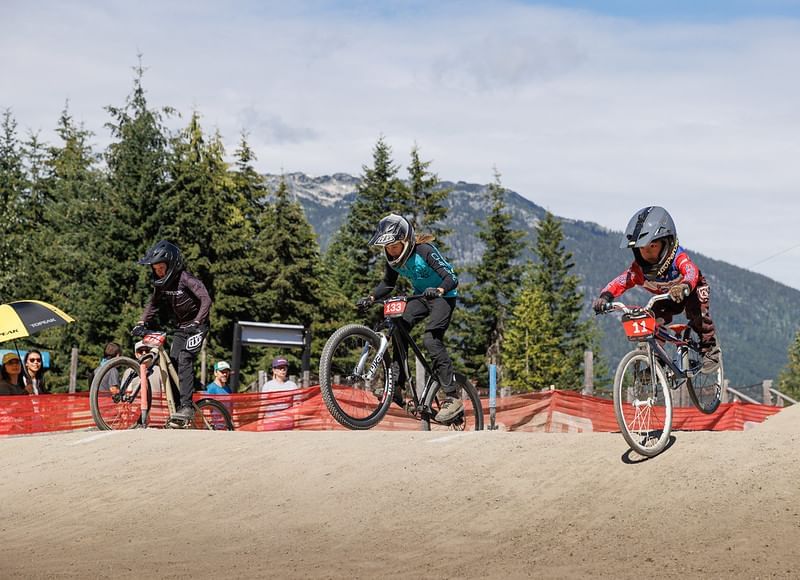 Photo Credit: Crankworx World Tour
Young shredders can also join in on the festivities. At Kidsworx, children will not only have the opportunity to try out some of the pro Crankworx courses, they can enter junior races to test their speed and skills against their peers. There will also be a Scavenger Hunt for the little ones during the festival.
Photo and Video Challenges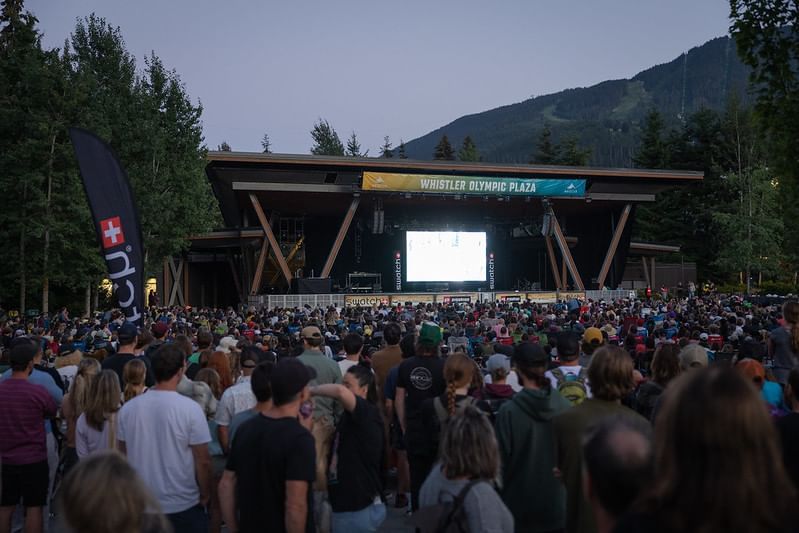 Photo Credit: Crankworx World Tour
1. Deep Summer Photo Challenge
Date: July 25th (8:30 PM to 10 PM)
Location: Whistler Olympic Plaza
Five photographers and one wildcard contestant will bring their Whistler mountain biking story to live on the big screen with six slideshows set to music. They will spend three days under the sun taking photos during the first Crankworx weekend. The showdown will give the audience a fresh perspective of this biking haven.
2. Dirt Diaries
Date: July 27th (8:30 PM to 10 PM)
Location: Whistler Olympic Plaza
In this filmmaking contest, six filmmakers will show us part of the diary of an extraordinary athlete. Each entry is a four to six minute short film that is partially filmed at the Whistler Valley and Whistler Mountain Bike Park. Submissions are judged based on storyline, videography, riding, and editing. Make surer to catch the cinematic showdown at Whistler Olympic Plaza.
Crankworx is for Everyone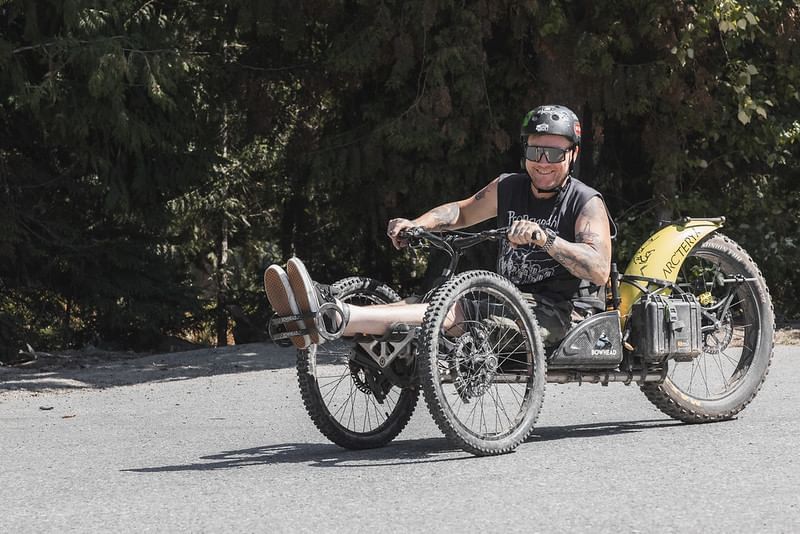 Photo Credit: Crankworx World Tour
This year, Crankworx is featuring an Adaptive MTB Jam Session and an Adaptive Downhill Race. Riders with varying mobility can shred the bike park and the Whistler Valley Trail Network. At the complimentary Jam Session, all rides will be guided by certified coaches from Whistler Adaptive Sport Program and Kootenay Adaptive Sport Association.
Here are a few more blogs from Whistler insiders about how we celebrate everything mountain biking during Crankworx:
With so much happening during Crankworx, it's tough to fit every event in your itinerary. Here are seven events that locals won't miss this summer.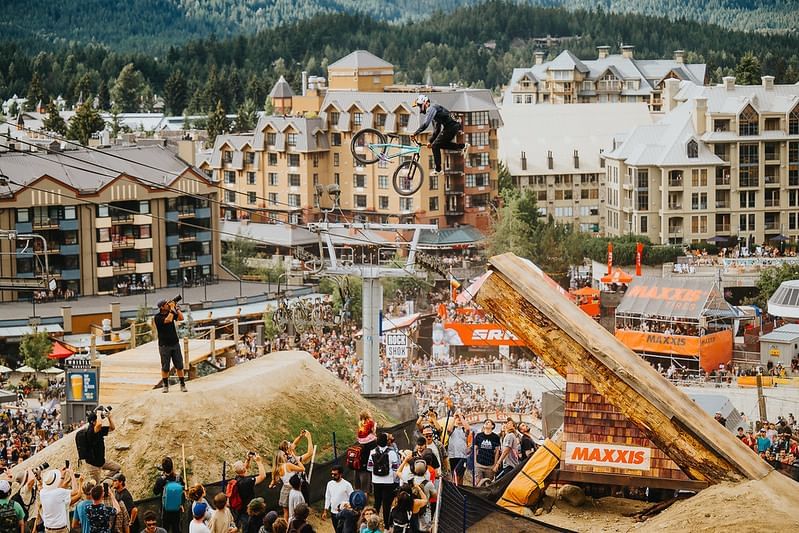 Photo Credit: Crankworx World Tour
Check out a family's 2022 Crankworx experience to know more about accessible biking and adaptive sports in Whistler.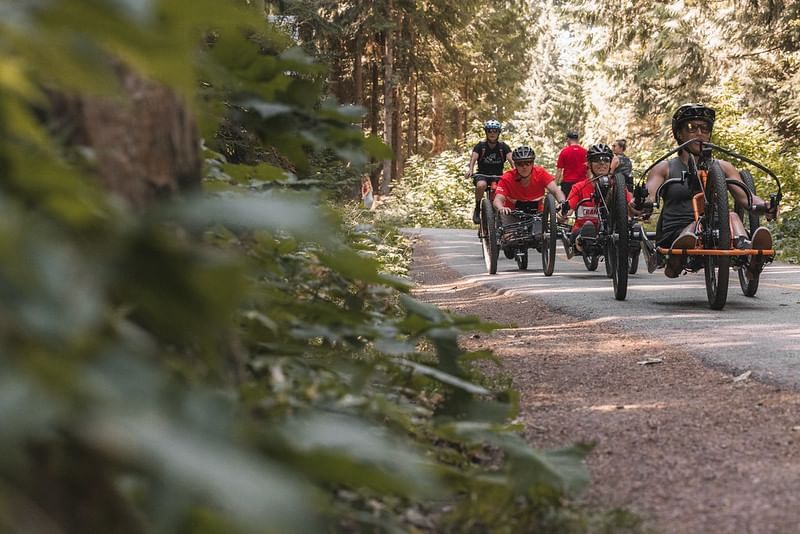 Photo Credit: Crankworx World Tour